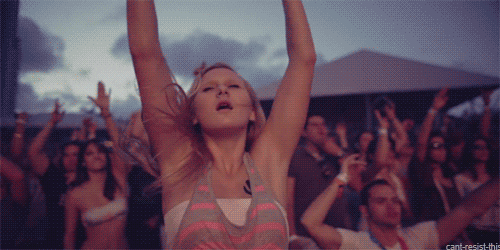 If you're like us and you loooooove music festivals, you may be quietly shedding tears over the (impending) arrival of fall and the end of festival season. WE SAY DRY YOUR EYES! With a little research we discovered that there are still tons of festivals popping up as we transition out of this way-too-hot season. So while temperatures may drop, music festivals are still yours for the enjoying, and if that means sipping hot toddys and wrapping up in patterned pashminas while seeing our favorite bands, that's a sacrifice we're willing to make! Whether indie is your thing, jam bands get you going, noise rock gives you chills, wanna see a brand new festival from China, or you just like free sh*t, we've got a festival for you!
#10 CBGB Music and Film Festival (October 8-12, 2014 @ Various Downtown Venues, $10-50)
CBGB are late to the game this year and haven't announced any participating musicians or films for their Third Annual Festival. We're glad to sit back and hold our horses though– also this time last year nothing had been announced, then suddenly, as if out of thin air, My Morning Jacket, Grizzly Bear, The Wallflowers, and Divine Fits took the stage and tore Times Square a new one as one of the most memorable performances in midtown history.
#9 Lockn' Festival (September 4-6, 2014 @ Arrington,  VA, $285 4-Day Pass)
Allman Brothers Band, Drive-By Truckers, Phil Lesh and Friends, Tom Petty and The Heartbreakers, Wilco, Willie Nelson.
A good 7 hour drive away, this festival is for all you hardcore jam band lovers. In its second year, the fest takes place on a gorgeous farm with plenty of space for an estimated 30,000 fans to spread out, camp, and get weird.
#8 Global Citizen Festival (September 27, 2014 @ Great Lawn, Central Park, Free but ticketed or VIP $150)
Jay Z, No Doubt, Carrie Underwood, Fun., The Roots, Tiesto
For the free festival Junkie, this festival in Central Park features Tiesto, Carrie Underwood, Jay Z, and No Doubt. Seem like a random mash up of superstars? They're all here for charity, lending their skills for one night only to raise an estimated $1.3 billion for the Global Poverty Project. The festival brought together 60,000 "change makers" last year. You can be one of them– earn a free ticket through a series of social awareness and education challenges online or buy a VIP ticket for $150.
#7 Aputumpu Music Festival (September 5, 2014 @ Le Poisson Rouge, $20 ADV / $25 Day Of)
Saul Williams, Osekre and The Lucky Bastards, Patrice, Koku Gonza
Back for its third year, this year's festival reformatted as a one-day event highlighting the best new African-American musicians- starting with legendary headliner Saul Williams. Also on the bill is festival creator Ishmael Osekre's kickass afropunk band and R&B artist Patrice  and soulful world musician Koku Gonza.
#6 Modern Sky Music Festival (October 4-5, 2014 @ Rumsey Playfield, Central Park, $85 2-day pass)
Cat Power, Atomic Bomb! The Music of William Onyeabor, Liars, Stars, The Both (Aimee Mann & Ted Leo), Lenka, Zhang Xuan, Re-TROS
Originally produced in Beijing in 2007, Modern Sky is coming to NY for the first time! And it's bringing along a very interesting lineup including an all-star Atomic Bomb Williams Onyebar tribute (think Sinkane, Members of Hot Chip, LCD Soundsystem, and hopefully David Byrne) and "some of the biggest names in Chinese rock/electronic music." We're not sure what to expect, but we are very excited indeed…tickets here.
#5 Catskill Chill Music Festival (September 5-7, 2014 @ Hancock, NY, $165 ADV / $185 Gate)
Yonder Mountain String Band, The New Deal, Lettuce, Shpongle, Break Science, Papadosio, Nahko & Medicine for the People
If you're looking for something that's totally not NYC, this festival might do the trick! Located in Hancock, NY, about a 2.5 hour drive West of NYC, lies Camp Minglewood, a land rich with both mingling and woods, ripe for the drug-taking and bluegrass-listening. There are also tons of electronic bands on the bill, and good sprinkling of feel-good folk rockers. Basically, some really good vibes await if you're all about lying in the grass and making lots of new (slightly) down-country friends. Camping and cabins are available.
#4 Oh My Rockness Turns 10 Fest (Saturday + Tues Nights Sept 6-30, 2014 @ Irving Plaza, NYC $50 4 show-pass)
Panda Bear, Fucked Up, Speedy Ortiz, Pinback, The Black Lips, King Khan & BBQ Show, Habibi
Dang, Oh My Rockness, 10 years?! It's hard to believe this remarkable music listing site has been an integral part of our lives for so long. They are celebrating by throwing a super unique 4-show-long festival at NYC's very own Irving Plaza. Each Saturday or Tuesday night sees new and different artists who (like OMR) have established themselves as the best of their kind over the past decade. Tickets individually run from $18.50 to $30, so we highly recommend grabbing the limited $50 4-week pass.
#3 CMJ Music Marathon (October 21-25 @ Venues Across NYC & Brooklyn, $315 student / $500 Full…or… Free)
We're not worried that CMJ hasn't announced any participating musicians yet- we know it's gonna be the best CMJ yet. As the years roll by, CMJ's influence just gets bigger and bigger, with thousands of up-and-coming artists playing official shows and an equal number of bands playing unofficial happenings (hey, Bushwick Daily even hosted a CMJ show last year in Bushwick!). We don't recommend buying a pass- you can experience as much or as little of the festival for free or very cheap just by paying attention (and reading our helpful guides!). Check out our coverage from last year to get excited.
#2 Escape Music Festival (October 11-12, 2014 @ Pier 9, Brooklyn, $110)
Placebo, Yeasayer, The Crystal Method, Ra Ra Riot STRFKR, more TBA
In its first year, the Escape Music Festival offers something for everyone in its diverse lineup (…Placebo?!) and is located conveniently on the water just south of DUMBO. While we're still awaiting phase 2 of the lineup, we're already impressed enough by their initial offerings to predict this fest is going to be huge. It's also extremely affordable so get on it while tickets are still cheap.
#1 Basilica Soundscape (September 12-13, 2014 @ Hudson, NY, $60 weekend pass)
Swans, Deafheaven, Majical Cloudz, Tim Hecker, White Lung, Endless Boogie
Wow, what to say of this gem of a festival that the NY Times mentioned in their "Dreamed-Of Music, Undreamed-Of Spaces" article? First off, it's got one of the most unique lineups we've seen, bringing together legends in psychedelic, experimental and noise rock for  intimate and riveting performances. The festival spans two days (Fri + Sat) in an old factory on the river just 2 hours upstate in Hudson, NY. To top of 2 days of epic music, on Sunday, the Basilica invites the community to enjoy a "spectacular morning feast" and farm & flea. Camping is available for $55 for the weekend but you're also in the heart of bustling Hudson, NY where air b'n'bs and inn stays are also available. Seems like the perfect escape from NY!
[contextly_auto_sidebar id="2iua6fu0tTmCkccmVnAKh7bEU1Bvnqsj"]