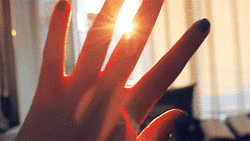 It's going to be 70+ degrees and sunny tomorrow, and there are ten incredible shows, raves, dance parties and festivals going down over the next three days. It's officially the best weekend of my life. Let's go!
#10 The City and Horses, My Favorite, Mercury Girls, Gingerlys @ Black Bear Bar, 70 N 6th Street, Williamsburg (FRI 9PM, $10)
If you ever wanted to see a whimsical pop band guided by flute in a bar that's now famous for its skate bowl, now's the time.
#9 Options / Nature's Neighbor / Nadia / Jake Falby @ Bohemian Grove,64-66 Grove St, Bushwick (SUN 7pM, $5 suggested)
This dreamy Sunday show showcases two Chicago groups (Options, Nature's Neighbor) and two Brooklyn solo projects (Nadia of Phantom Posse and Jake Falby of Mutual Benefit). Just lovely!
#8 Pity Sex, Foxes in Fiction, John Galm, Spirit of the Beehive @ Brooklyn Night Bazaar, 165 Banker St, Williamsburg (FRI 8pm, $FREE)
If their name isn't enticing enough, Pity Sex will rope you in with their jangly lo-fi tunes.
#7 Dance For Humanity @ Bushwick Warehouse (SAT-SUN 8PM-10AM, $15-40)
Yes, you read those hours right– this is a legit 14-hour dance party offering shamanic awareness classes, tantra learning, meditation, ecstatic dance, and all around a bumpin' time. Plus 20% of the proceeds will go to charities. Perfect sunrise afterparty for Bang On! Anyone?
#6 New York's Alright @ The Acheron / Shea Stadium / The Wick, East Williamsburg (FRI + SAT, $15-25)
"We will be bringing together some of the best bands in contemporary DIY punk and hardcore from different parts of the world for your mild enjoyment." Weird poster aside, this sounds really f*cking cool!
#5 Northern Spy presents: Beep!, Gerald Cleaver's Black Host, Matt Nelson, Kim Cass @ Trans Pecos, 915 Wyckoff Ave, Ridgewood (SUN 8pm, $10)
Oakland experimental trio Beep! has been opening for tune-yards lately and that is reason enough to consider them godly.
#4 Cosmonaut, Turnip King, Acid Dad, Baby Acid @ ALPHAVILLE, 140 Wilson Ave, Bushwick (SAT 8PM, $8)
A few great neighborhood bands and their good looking friends have a party, potentially take acid (with a baby, or a Dad) this Saturday nite!
#3 Peach Kelli Pop // Crazy & the Brains // Kung Fu Crimewave // Fern Mayo @ Palisades, 906 Broadway, Bushwick (SUN 8P, $10/12)
This is going to be such a fun Sunday night moshing with a group of 82 14-year old danish exchange students  all your new friends and neighbors to the candy-coated fuzzpunk of Burger Records' Peach Kelli Pop.
#2 BangOn!NYC presents: "Creatures of the Night" @ Secret Warehouse, Near Jefferson L (SAT 10PM, $40)
In case you needed any more reasons to check out this epic rave (zipline, glow worm cuddle zone, The Golden Pony), we played 20 questions with the promoters.
#1 Ava Luna with Palehound, Palberta, LVL UP @ Silent Barn, 603 Buhwick Ave, Bushwick (SAT 8PM, $10)
Experimental Jazz/pop/rock group Ava Luna are OGs of the Brooklyn music scene so it's very kind of them to debut their excellent new album, Infinite House, at Silent Barn, on Saturday!