Daylight Savings is around the corner; the sun is coming up earlier, going down later, and soon we will be partying an hour into the future. What better way to prepare for our completely effortless trip an hour ahead of time than to go to a shit-ton of awesome shows in the Bushwick/Williamsburg area? Of course it sucks that all the Screaming Females shows are sold out, but don't worry, there are so many other shows to spend your time at before you travel forward in time like hitting up parts of ZeroFest 2 and Baby's All Right's first annual Wake and Bake Festival. You will feel prepared for the future in no time.
#10 Zula, Laser Background, Baked, Leapling @ Secret Project Robot, 389 Melrose Street (FRI 8PM, $7)
If you are interested in space, time travel or the like, Secret Project Robot is probably the best place to spend your Friday night before Daylight Savings time takes you away. Check out Philly-based Laser Background and the last NY show of Baked and Leapling before a big tour.
#9 Baby's First Annual Wake & Bake Festival @ Baby's All Right, 146 Broadway (SAT 12PM, $5)
Why not believe you have already moved forward through space and time by attending this extremely mellow festival involving music you will feel awesome listening to all day long. Check out bands like Spirit Plate who will be celebrating the release of their self-titled debut album and Savants. Don't all the chill bands and good times and the bottomless brunch from 12 to 4.
#8 SCARCITY OF TANKS, Talibam!, Richard Papiercuts Sound Machines, Rodenticide @ Alphaville, 140 Wilson Ave (FRI 8PM, $8)
Scarcity of Tanks is Matt Wascovich and this line-up will be featuring members of Swans, Oneida, Yo La Tengo, and Death of Samantha. It's likely to be a hell of a show, and you will probably be completely ready for the future when the night is through.
#7 Courtship Ritual, Makeout Club, Veda Rays, Food Stamps, Dead Sexy Sheila @ Shea Stadium, 20 Meadow St (SAT 8PM, $8)
There's a lot of really great music at Shea Stadium Saturday night. Get down with Veda Rays and wear some X-ray specs and you will certainly feel like Day Light Savings Weekend was worth it.
#6 Dead Leaf Echo, Boom Said Thunder, Gingerlys @ Cobra Club, 6 Wyckoff Ave (THURS 8PM, $5)
This truly is the perfect weekend to be going to the future, because these are the right bands to be sending you off. Dead Leaf Echo's ambient, spaced out, shoegaze jams will set you up to feel completely relaxed as Boston turned Brooklyn band Boom Said Thunder gets a bit heavy with their clanging drums, booming bass, and stoic female vocals.
#5 The Big Sleep, Isadora, Spritzer, Slothrust @ Rough Trade,  64 N 9th St (FRI 8PM, $12)
On Friday night, make your way to Rough Trade to check out some melodic, feel good tunes like the homegrown, basement rock of Slothrust and think about how wonderful the present has been.
#4 EULA, No Bra, Gull, Martin Bisi @ Palisades, 906 Broadway (THURS 8PM, $7)
It's pretty clear after watching this video that Eula is the future. Go to here on Thursday as they celebrate the release of their album Wool Sucking with their fellow awesome bands.
#3 Honduras, The Yin Yangs, Secret Crush, Granny, Mark Perro & Holly Overton @ Aviv, 496 Morgan (SAT 8pm, $8)
It only makes sense that you should go to a mysterious venue in the middle of East Williamsburg to see some indie rock and punk outfits before jetting an hour into the future only a few days later. In addition to all these rad bands, this show also features Mark Perro and Holly Overton of The Men, and Jupiter Rising.
#2  Freezing Sun |/ Burning Moon: A Thunder Gumbo & ICARUS Mutant Fundrager @ The Wick, 260 Meserole St (SAT 9PM, $20 and up)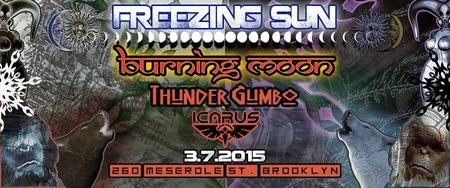 Experience a variety of Interplanetary ear sounds at this Burning Man art car fundraiser! This is most definitely a futuristic event including fire installations, body paint, fur coat library for outdoor areas, illuminated weather balloons and more!
#1 ZeroFest 2 Day 4: Dagger Shores, Sun Voyager, The Meaning of Life, Kala and the Lost Tribe, Gym Shorts, Chimes @ Silent Barn, 603 Bushwick Ave  (SUN 4PM, $)
Square Zeros is putting on the second annual music fest called Zerofest 2! It's four days long! Sunday, come celebrate the final day of the fest at Silent Barn with Chimes' dirty psych punk and the surfy, garage rock of Gym Shorts. To reiterate, there is no better way to save some daylight and blast into the future by one whole hour then to rock out with these kickass bands all weekend. Check out the rest of the festival here!