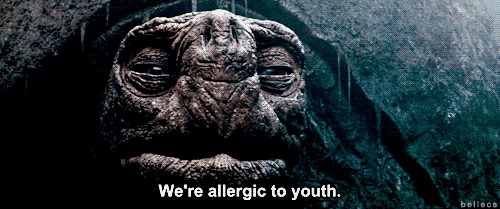 It may seem as though we are always making it look like there is endless music out there over the weekend, (which typically there is, we swear). But this weekend in particular strikes a chord as festivals are occurring, bands from the city as well as all over are playing throughout the Bushwick and Williamsburg area, and awesome music is just in abundance. Unlike Morla from The Neverending Story, music is created and inspired by youth, and this weekend is a perfect example of all the different types of bands that are keeping us young on a daily basis. So get out there this weekend and find or experience your youth with rad festivals, weekend long extravaganzas and some DIY house shows!
Have you been feeling nostalgic for some good old punk rock? High school style? Get down this Saturday night with the dirty, spitting guitar stylings of Ma Jolie and San Francisco's Great Apes who wield that slightly poppy style of punk that you know you're teenage self is just dying to experience again. On a slightly more modern note, also playing are Brooklyn band's Jumpers and The Britanys who's styles involve more winding guitar and effects pedals.
What better way to feel young then to go see Le Tigre inspired, California-based lady rock band Bestfriend Girlfriend with their minimalist, experimental guitar and yelping female vocals. Also hailing from CA are Wizard Apprentice whose ambient electro-beats and chill vocals could definitely speak to our youthful hearts.
Speaking of youth, remember the old Knitting Factory? Granted, the new one doesn't quite have the same history, and it wasn't ever a knitting factory, however, it has it's charms. The bands playing this Thursday also have their youthful charm–including Brooklyn-based Miniboone with their driving percussion and melodic guitar riffs. Also playing are indie dance-rockers, The Ugly Club, bringing back memories of high school with their name and stirring up a strange urge to dance with their drum beats.
Come out to Trans Pecos this Saturday for a BBQ and some music that will either make you feel very young or very old. Check out the folk-art rock of Christy & Emily and the avant-garde jazz rock stylings of Artanker Convoy. It's bound to be an extremely unique and fun show, so don't miss it!
New York's Jaguar Club is once again playing under their original name for the first time in four years–with a couple lineup changes–but the same rockin' energy. Joining them at Cameo Gallery this Saturday are Brooklyn indie rockers Pow Wow! with their head bopping keyboard melodies and reverb-y guitar vibes. You'll get transported right back to the late nineties or maybe the first time you saw a show in New York with that vibrant energy and youthful excitement.
If you miss your youth, or fear you are getting old, think back to when you lived in a loft that you threw shows in, or just threw up in (maybe you managed to get it all in a stove pot and washed it before anyone noticed). Bare bones and white-walled, check out Loftosaurus Rex with this semi-acoustic show featuring Lexington, Kentucky indie-folk band The Whitehall Bear and Brooklyn bands Noisycrane and The Church Committee!
Friday night at Palisades, you will be in for a throwback to a variety of styles from minimalist noise rock with Speculator, the echo-y distortion of mid-2000's with Cool World and then a little bit of the future with Jerry Paper. What people love about music is how different it is, how it can transport you; this show will transport you all over the place and help you hold on to what it feels like to be young, no matter your age.
#3 Ceremony, Iron Lung, Nothing @ Brooklyn Night Bazaar (FRI 6PM, FREE)
Brooklyn Night Bazaar this Friday features hardcore rockers, Ceremony, as well as indie shoe-gazers Nothing. Both bands will Bill-and-Ted you back several years into different parts of the 90's as you wander through the bazaar, enjoying the handcrafted trinkets and delicious food. That should, hopefully, always make you feel young.
Yet another DIY venue with a great show in store; a two-day show with several bands to rock out to in the summer air. Friday night, you can check out Pittsburgh's The GotoBeds and their poignant indie instrumentation and punk-style vocals. Also playing Friday are The Jeanies, and Kerbivore. Saturday night, check out the dark and mysterious tones of The Veda Rays and the self-proclaimed "caveman rock" of X-Ray Specter. Why not spend your quickly fading youth at a two-day event enjoying music of all styles?
#1 1.21 Gigawatts Festival @ Radio Bushwick (THURS-SUN, $22/all 4 days)
Of all things to either extend your youth or suck it out of you are festivals. This one however is one of the good ones, not relying on it's name and sponsors, but more so relying on the fact that the bands are good, the fans are great, and the music itself is something that will perpetually make people happy. Check out the 1.21 Gigawatts Festival with it's fresh-faced musicians and crazy hip venue/radio station and even if you don't feel that young anymore, it doesn't matter. The music is here for you to get lost in and to remember or forget anything you want, and that's all that really matters; never ending music.