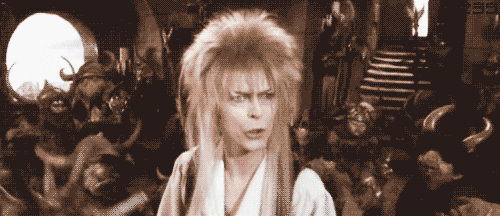 It's already Friday? Great, because I just saw Labyrinth for the first time ever and have been practicing my Dance Magic Dance. Now I want you to join me at every one of these top 10 shows this weekend. Who do? You do! Slap that baby, make him free!
#10 Beech Creeps / Ghetto Ghouls / Squad Car / Time Walk @ Silent Barn (SUN 8PM, $?)
Sunday night gets a dose of heavy rock. Whether you're getting your fix or not only you will decide.
#9 You Blew It!, Sorority Noise, Microwave @ Jacob Riis Park (SUN 2pm, $FREE)
Free music at the beach makes for very happy bodies. There are shows going on both Saturday and Sunday, but the feel-good emo vibes of You Blew it! makes the most sense near crashing waves.
#8 Excepter, Zaimph, Image Man, Silk Purse, Cyanide Tooth, Rhyton, Kyle Eyre Clyd, Matthew Mullane, Abigail Hobbs, Sarah Louise @ Trans-Pecos (SAT 2PM, $8)
Another weekend, another mysterious event at Trans-Pecos. This time it's "A DOG DAY'S JOURNEY INTO NIGHT FESTIVAL" and features Danish band Excepter, a "synthetic protest band engineered to erase cultural distinctions through polarized confusion." Why not.
#7 Juan Wauters, Ice Balloons, Tall Juan @ Union Pool (SAT 2PM, $FREE)
Summer thunder's almost over 🙁 soak up this epic free series by seeing at least 2 Juans on the same bill!
#6 Safety (Record Release), Save Ends, The Reveling, Such Hounds @ Suburbia (SAT 8PM, $5)
Get into the Saturday Night House show vibe at Suburbia, where locals bands and Boston visitors make some noise. Plus, it's "indie punk" band Safety's record release!
#5 Warcries, MPHO, Polio Club, Four Visions @ ALPHAVILLE (SUN 7PM $
Get lost in the lo-fi waves of sound of Warcries, get groovin to the minimal, 60's-influenced Polio Club.
#4 Broke City x PopGun Present: Delroy Edwards, Huerco S., Førest @ Lot 45 (FRI 8pm, $15/20)
If you like EDM-tickled clubs (or "lounge" as Lot 45 prefers) then congratulations! It's gonna be a good Friday Night. Don't forget your flask.
#3 Downies, Rivergazer, Everything Ever, Secret Pizza, The Rotaries @ David Blaine's Steakhouse (FRI 7:30PM, $?)
Secret new venue, secret new Pizza. FRIDAY.
#2 No Ivy League #1 release! w/ PWR BTTM + Adult Mom + Jeff Lewis/Peter Stampfel + Izzy True @ Aviv (SAT 9pm, $7)
A new comic book series release by Hazel Newlevant! And all these band homespun bands! Nerd alert! <3
#1 Pictureplane, Celestial Traxx, Eaves, Negative Gemini @ Palisades (FRI 12am, $10)
12 midnight the right time to get your night started? If so, don your Alien Body garb and make your way to a very special night at Palisades…